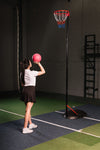 WalkingPad Adjustable Portable Netball Hoop
Sale price
R 2,250.00
Regular price
 Product Description
• High-quality materials - Walkingpad Netball Hoop is constructed of heavy-duty steel and an all-weather nylon net. This Netball ring is designed to last through many netball seasons.
• Stable base - The mobile base can be filled with 23kg water or 28kg sand to ensure your safety and stability when using the Walkingpad Netball hoop. Two built-in wheels provide convenience for transportation and movement.
• Height adjustable Walkingpad Netball Hoop Stand - Designed with two telescopic columns, the stand can be easily adjusted from 2.4 M to 3.05 M in height, which can be easily adjusted by one person.
• Both indoor and outdoor use - The Walkingpad portable Netball hoop can be used for gyms and public parks practice. Anyone can develop their Netball Skills anytime, anywhere. • Dimensions - Base Dimensions: 81cm x 58cm x 16cm (L x W x H), Adjustable Height 2.4M – 3.05M Packaging Size : 62.5 x 18 x 82cm. NW / G.W 10.5/12.2KG.
• Visuals – The Walking Adjustable Portable Netball Ring has striking looks with its bold design & steel frame & base with built-in wheels. • By selecting and using high-grade steel, applying the most advanced welding technology & powder coating equipment, the novel style consists of first-class Walkingpad Netball systems. These leisure Netball rings are widely used. These products are of various specifications and styles forming a product line with the advantages of weather–resistant, corrosive-resistant, light, handy & convenient to operate.
Material: Weather Resistant Nylon, Steel tune, PE Base & Steel rim
Style: Portable
Assembly Required: Easy to assemble & disable
Frame material: Heavy-duty Steel
N.W / G.W: 10.5/12.2 KG
Packaging Size: 62.5 x 18 x 82
Base Padding: The base can be with 23kg water or 28kg sand
 Portable: Built-in wheels, can be easily moved
Base Size: 81cm x 58cm x 16cm 
Rim Inner Dia: 40 cm
Minimum height: 2.4m
Maximum height Recommendation: 3.05m
Mounting Type: Freestanding
What's in the box
Bottom tube
Top tube
Middle tube
Middle tube 2
2x Lower left and right brace
Hoop
Base
Net
2x Wheel
2x Wheel axle
Bottom pole bolt and washer
Adjusting knob
2x Lower pole and middle pole bolts, washer and nut
2x Lower support brace bolt, washer and nut
4x Hoop bolt, washer and nut
1x Lower support brace top bolt, 2 washers and nut
Manual
3x Allen wrench
2 wrenches
We are now on, Takealot! Click below to visit Takealot online store